And I wish you love! A lot of Love!
A year ago, this is how my mentor, a senior architect, greeted me into the New Year as we met for a workshop on the redevelopment of Downtown Port-au-Prince. We were meeting in Pétion-Ville with property owners who had been actively working towards the revival of six urban blocks surrounding Place Geffrard, the only public park at the heart of the historic district of Port-au-Prince.
A few months later, my mentor's wish came true. I found someone who luckily wanted to explore Downtown Port-au-Prince with me. We both shared the same curiosity for a place we felt foreign to, and which potentials interested us as builders and designers. However, planning a date downtown Port-au-Prince is not easy. Many political protests, difficult schedules and bumpy roads later, we have not made it there together and our passion for each other also faded.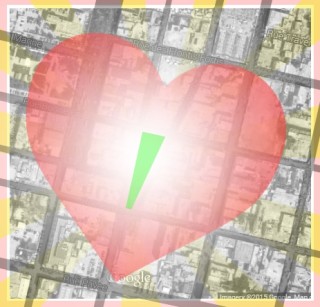 As Valentine's Day approaches, and I recently re-opened my Downtown files in the context of another architectural workshop, I stumbled upon an image I had composed for the property owners around Place Geffrard. This image was comparing an aerial view of Place Geffrard with that of Times Square in New York City. Times Square's triangular shape is formed by Avenue of Las Americas and Broadway joining together at an acute angle pointing south. On Valentine's Day, the southern tip of that triangle, well protected for pedestrians, is host to an art installation that attracts tourists and lovers on that special day. Likewise, Place Geffrard tapers down at the corner of Rue Courbe and Rue du Magasin de l'Etat, allowing for a dynamic intersection. Could this Valentine's Day art project happen on Place Geffrard? Perhaps the artists of Grand-Rue and the Iron Market could even compete each year to create exciting works of love…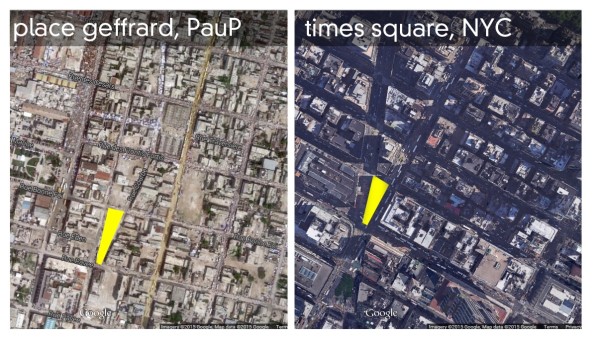 Comparing New York City's Time Square to Port-au-Prince's Place Geffrard made me think about my mentor's various romantic exclamations during our workshops: "Downtown?… but Downtown was a beautiful promenade!" Unfortunately, I did not grow up in Port-au-Prince during the beautiful days of its historic district. This part of the city was also the most affected during the earthquake of 2010. It is now timidly trying to rebuild, with as pioneers, the noticeable reconstruction of the National Bank (BRH) and the Iron Market. While I constantly look for opportunities to promote the redevelopment of the heart of Port-au-Prince, I keep hoping that one day lovers could take a stroll on Place Geffrard on a calm Sunday morning, enjoy beautiful artwork and feel safe to explore the city through each other's eyes.
Commentaires