Le personnage…
Manuel est comme cette phrase qui débute ainsi et continue se jette dans l'abîme sans savoir ce qui l'attend en bas elle pourrait décider d'arrêter de mettre un point mais féroce et intrépide elle choisit de continuer refuse de s'arrêter même si elle ne sait pas où elle va ni jusqu'où elle arrivera elle est le résultat d'une spontanéité qui s'affranchit des règles de grammaire et de rhétorique pourrait continuer sans fin à l'infini vagabonde et rebelle prenant vie et forme tout au long du voyage formes qui lui échappent et lui appartiennent en même temps… Nous aurions aimé continuer cette phrase sans fin et en faire l'article, mais contrairement à Manuel notre audace a ses limites, nous ne prendrons pas ce risque….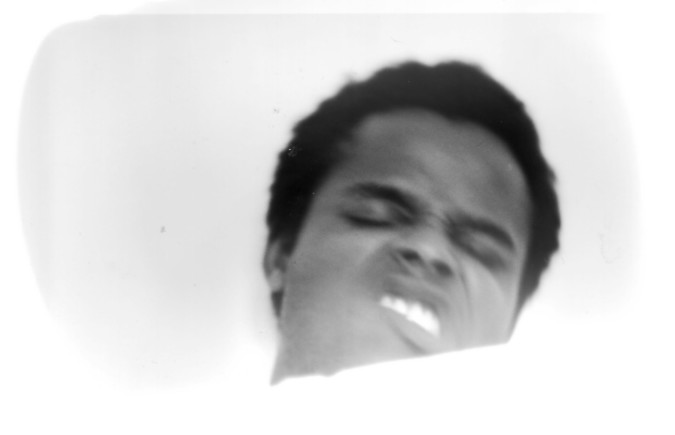 Né en 1986, à Port-au-Prince, Haïti.
Vit et travaille à Londres.
Peinture, photographie, installations.
.
5 choses à propos de Manuel Mathieu que je suis prête à parier que vous ne saviez pas… 
John Frusciante, Clyfford Still et Sol Lewitt sont ses trois artistes préférés (du moment).
Aujourd'hui, il vit son rêve… sans façon!
Il veut être musicien… un jour.
Ses œuvres font partie des collections privées de Venus Williams et de Luc Plamondon… impressionnant !
Il y'a de fortes chances que le jeune homme hyper-sympathique que j'ai rencontré, il y'a quatre semaines devienne au cours des trois prochains mois une « star inaccessible ».
.
Un rapport particulier à l'art…
L'art de Manuel Mathieu reflète Manuel Mathieu, son rapport au monde qui l'entoure, son rapport à lui-même, son rapport aux autres. C'est en naviguant à travers le tourbillon que constituent ses peurs, ses doutes, ses choix, ses pensées, ses rêves, ses douleurs, ses questionnements, ses repères, ses ancrages, qu'il crée. Et c'est cette kyrielle de sensations qu'il traduit dans son travail d'artiste. Manuel Mathieu parle fort. Il parle cru. Il est acide. Il est violent. Il est sensible. Il est subtil.
Le personnage est complexement simple. C'est tout ça qui est reflété dans ses œuvres: un art sans prétention, sans artifice, sans apparat… La création devient alors une manière pour lui de (se) « chercher », de (se) « découvrir » et d'« explorer » son « Moi » en relation avec ce qui l'entoure… Ce n'est pas pour rien que ce dernier terme revient aussi souvent quand on lui parle de son rapport à l'art. De l'égocentrisme? Pas du tout ! L'individu veut garder son regard enfantin, curieux, ouvert. Un regard qui questionne tout, mais qui reste ouvert à toute explication. Il veut laisser le monde l'ébahir, rester enfant, explorer ses folies, ses inquiétudes, ses instants de génie.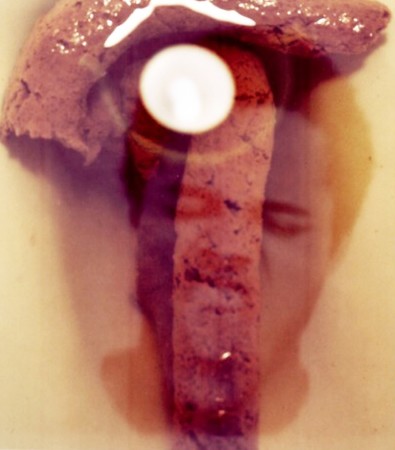 Quoi de mieux pour illustrer tout ça que de mettre en relation l'œuvre « Shit and Light » avec l'anecdote qu'il nous raconte lors de notre visite dans ses quartiers? « Parfois, des amis artistes entrent dans ton studio et commencent à déplacer, à replacer et à repositionner des choses… Certains te proposeront de placer ce truc ici au lieu de là et, tout d'un coup tu te surprends à remettre en question la direction que tu avais empruntée. À la seconde même où tu commences à te poser ces questions, tu es foutu et tu peux te dire que tu vas passer un sale quart d'heure… Mais c'est une bonne chose: ça ouvre ton esprit à l'exploration, ça t'invite à te dépasser et surtout ça fait partie du processus d'apprentissage… N'empêche que quand je suis assailli de doutes, je me pointe dans leur atelier et je les secoue, eux aussi, sans retenue. Deux semaines plus tard, nous serons deux à en rire autour d'une bonne bière ».
En d'autres termes, la merde que le monde lui sert en pleine face, il se l'approprie et la lui ressert sur un plateau d'argent! Simplement crue, cette œuvre résume bien la manière de l'artiste de voir la vie.
Le rapport de l'individu à l'art est assez spécial: ça prend quand même un soupçon de génie pour prendre de la merde et en faire un chef-d'œuvre. Il faut aussi une généreuse poignée d'originalité pour penser à suspendre des préservatifs au plafond d'une chambre afin de compléter son aménagement. Dans la même lignée, ça prend une bonne dose de talent pour arriver à faire des pièces qui, à la manière de César Cruz, dérangent les conservateurs et réconfortent les déjantés.
En tout cas, cet artiste surprend. Pour moi, il symbolise l'audace sous sa forme la plus crue et la simplicité sous sa forme la plus complexe…
Un parcours riche et non-conventionnel…

Très peu d'artistes haïtiens ont emprunté la voie audacieuse de faire de l'art leur seul métier mais Manuel lui en vit. Pour ce jeune homme, ce choix de carrière a surtout été motivé par son désir de se sentir libre. Si le message du T-shirt "God/ Science/ Art" qu'il porte lors de l'entretien n'avait été assez clair, cette dernière explication ne laisse plus de place au doute : l'art donne un sens à [sa] vie.

Toute l'aventure part donc de là. Après avoir obtenu un certificat en marketing de HEC Montréal, Manuel intègre la Faculté des arts de l'UQAM à Montréal de laquelle il ressort, 90 crédits plus tard, en 2010, bachelier ès arts, spécialisation Arts visuels et médiatiques. Le jeune diplômé a ensuite formé son regard en Haïti, aux États-Unis et en Europe. En 2010, son audace et son talent lui gagnent l'attention et le support de la galerie Monnin de Pétion-Ville où il expose pour la première fois ses oeuvres peintes. L'exposition est un succès. En novembre 2010, il participe à la première édition de « Haïti Art Expo » et vend deux de ses toiles à Vénus Williams. En mai 2011, c'est Luc Plamondon qui ajoute une des pièces de Manuel à sa collection privée. Dans la même période, Manuel participe avec d'autres artistes à une exposition de « Arteamericas ».
Quelques mois plus tard, il répond favorablement à l'invitation de participer à l'exposition « Forever Forged. Forever Becoming » à Londres. En Octobre 2011, il est sélectionné pour profiter, pendant cinq mois, d'une résidence d'artiste au Studio Béluga. Son travail pendant sa résidence au Studio Béluga lui gagne l'attention et le support de la galerie du MAI à Montréal où il présente sa première exposition solo. Il intègre ensuite une exposition en duo avec Sébastien Jean au Musée du Montparnasse à Paris. Son travail est ensuite présenté à Washington et à New-York.
Au cours de l'été, il retourne en Haïti où il travaille sur le « projet » Spooky, une tête de poupée vaudou surdimensionnée. En septembre 2013, il répond positivement à la lettre d'acceptation qu'il reçoit de la Goldsmiths University of London et entame une maîtrise en Beaux-Arts. Manuel, est aussi sélectionné pour participer à l'émission télévisée Les Contemporains de Ici ARTV pendant laquelle six artistes travaillent avec des mentors de renommée internationale. En novembre, Manuel, se joindra à l'exposition « Re-Voir Haïti » où il présentera certaines de ses œuvres au Grand Palais, à Paris.
Le talent de l'artiste est indéniable mais son début de carrière fulgurant est surtout attribuable à la manière dont il se positionne sur le marché et aux longues heures de travail qu'il consacre à l'atteinte de ses objectifs. 
Une approche de requin…
Quand je pense à Manuel, la première chose qui me vient à l'esprit est la suivante : « Ma tête n'a pas de cœur et mon cœur n'a pas de tête. C'est pourquoi quand je dévoile le fond de ma pensée, je semble sans cœur et quand je décide de suivre la voix de mon cœur, je semble irréfléchi ». Il ne produit pas dans l'optique de plaire à un public, parce que, pour lui, faire de l'art c'est avant tout un besoin. La création est une aventure personnelle qui commence quand il est interpellé par le travail. N'empêche que, quand il s'agit de parler affaires, c'est la « bête » qui prend le dessus. Stratégique dans son approche, le jeune artiste semble avoir une compréhension bien aiguisée de la dynamique entrepreneuriale qui existe dans monde de l'art.
Pour lui, c'est assez simple, si on veut gagner sa vie en tant qu'artiste professionnel, il faut comprendre l'industrie et se positionner de pour être compétitif : « Je ne peux pas vraiment me permettre de ne pas penser à tout ça. Tout simplement parce que je gagne ma vie en vendant mon art. Et dans ce domaine, peut-être même plus qu'ailleurs, vos origines comptent, la couleur de votre peau compte, la façon dont vous parlez, la manière dont vous vous présentez, votre façon de vous habiller, les études que vous avez faites, les écoles et les gens que vous avez fréquenté, tout ça pèse dans la balance. Car tout est question de perception, surtout quand on considère le public que je vise ».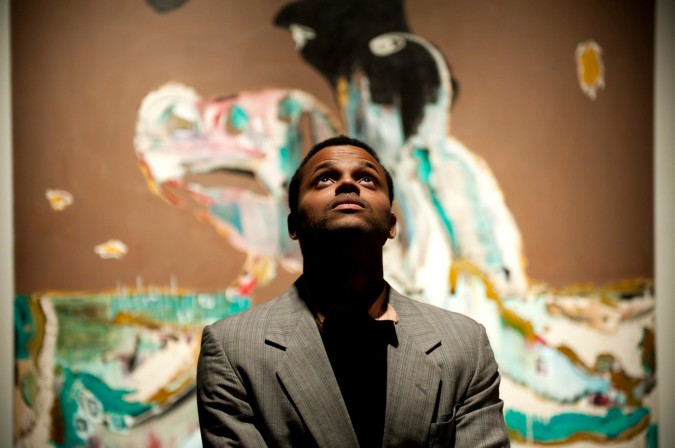 Chacune de ses décisions est scrupuleusement et soigneusement calculée. Ainsi, quand on lui demande pourquoi il a choisi de participer au projet Les Contemporains, la nouvelle série documentaire de la chaîne ICI ARTV, ses réponses font état d'un esprit entrepreneurial équivalent à celui d'un homme d'affaires qui prend des décisions stratégiques pour l'avenir de son entreprise. Le projet se déroule à l'Arsenal, le plus grand centre d'art contemporain au Québec et parmi les plus grands au Canada. Sa décision de retourner à l'université pour faire une maîtrise au Goldsmiths College à Londres doit elle aussi être mise en parallèle avec son esprit entrepreneurial car les études entreprises à Londres lui permettent de s'interroger sur son travail et de s'entourer de personnes qui poussent ses limites.
De plus, Manuel est fonceur. Donc d'un point de vue strictement commercial, sa stratégie marketing est bien intégrée. Son positionnement de marque combiné à son marketing mix forment un tout hyper cohérent et logique. Articulée autour d'un exercice de benchmarking qui lui permet de bien prendre le pouls du marché, sa stratégie de fixation du prix de vente de ses œuvres est à point: il analyse le marché, évalue son positionnement concurrentiel et décide des primes tarifaires qui seront appliquées au prix de base. Parallèlement, le jeune homme semble avoir bien compris que la valeur monétaire des pièces qu'un artiste met sur le marché est fonction du prestige qui accompagne son nom. Entre les vernissages et évènements organisés en galerie ou en musées auxquels Manuel assiste régulièrement, les collaborations artistiques sur lesquelles il capitalise pour attiser sa créativité, pour actualiser son potentiel et se réinventer, les expositions au cours desquelles il expose un peu partout dans le monde, les projets expérimentaux ambitieux dans lesquels il s'embarque pour mieux « explorer » et sa participation, plus récente, à la série documentaire Les Contemporains, le cheminement de Manuel Mathieu semble suivre un axe stratégique profondément réfléchi.
Chacune des stratégies mises en œuvre converge vers un même but : se créer un nom sur la scène internationale. 
Des créations puissantes et poignantes…
C'est sous les feux bleutés des néons de l'une de ses récentes créations – une installation « brute » de néons sur laquelle on peut lire "Another fucking neon"- que je fais mon premier vrai face à face avec les œuvres de Manuel. L'énergie créatrice qui émane du studio qu'il partage avec trois autres artistes est carrément subjuguante. En un tour rapide et je suis vendue. Le travail de l'artiste parle, crie, pleure, vexe, révolte… réveillant tout un spectre d'émotions chez celui ou celle qui croise son chemin. Ses œuvres dégagent une énergie sauvagement authentique qui me parle. Un art sans prétention qui touche l'âme et le cœur. Un art passionné qui réveille des émotions fortes. Un art brutal qui assomme et dérange. Un art tout simplement Manuel Mathieu.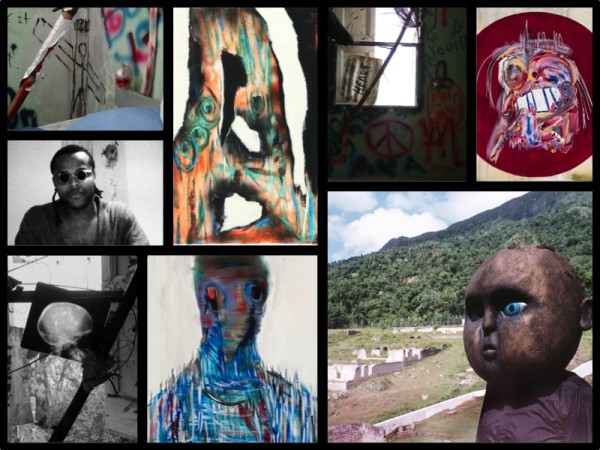 Commentaires