Interview with Kareen Ulysse, the founder and executive director of Fondation Centre Hospitalier de Fontaine in Cite Soleil
An increasing number of Black journalists, scholars of African American literature, history, anthropology, mental health practitioners, and behavioral scientists are concerned about a harmful and trendy phenomenon: the addiction to « Black Trauma Porn. »
While it is essential to acknowledge a portion of productions that appropriately document Black people's traumatic experiences, unfortunately, in some media and art, Black pain and suffering are turned into profits to entertain a white audience. A Black queer journalist and creator who explains this very well is Brittany Johnson, head writer for the online platform « The Mighty. »
In 2020, a few months following the mediatic exposure to the Georges Floyd killing by two white police officers in Minneapolis; in a powerful essay, she described trauma porn as:
« media that showcases a group's pain and trauma in excessive amounts for the sake of entertainment. Trauma porn is created not for the sake of the marginalized group but instead to console or entertain the non-marginalized group. It also tends to cater to the non-marginalized person's ego versus actually helping the marginalized person depict what life is really like for them. »
She went on to criticize the 2018 Childish Gambino viral music video, « This is America, » which she thinks was not made for Black people:
« We know about the K.K.K. We know about police brutality. None of this is new information; thus, for Black people, it only further served as a video highlighting Black trauma after trauma. One can argue that the video was created to educate non-Black people on Black life; however, the way it was done was further emphasizing Black pain with no end in sight. There were no call-to-actions on what can be done better. Yes, it launched a larger conversation, but at the cost of Black folk's well-being. »
This week, while attending a seminar given by two eminent medical anthropologists of European descent affiliated with renowned elite universities in the U.S.; I rolled my eyes when the male professor stated the following:
« I am comfortable with how police brutality is filmed and goes viral on social media… there is something magical about a cell phone. Because finally, we have a reverse situation in which the hunted have the ability to tell their stories from their perspective. »
As a Womanist behavioral scientist studying unique stress responses among racialized families and developing cost-effective and culturally-tailored mind-body medicines to reduce racial/ethnic health disparities in the U.S. and globally, I instantly called him out. Although I believe there was no malice in his comment, I asked: « Can we find a healthier method to protest police brutality and anti-Black racism without traumatizing Black individuals? »
I continued and explained to the group that, while mediatic exposure of police brutality may be a fast way to denounce and expose police brutality against Black bodies, unfortunately, from a clinical perspective, there is too much mental burden at stake for Black families. And this is particularly devastating for our Black youth, who are overly affected by suicidal ideation compared to white peers. Black trauma porn is not just endemic to racialized America. Indeed, it is a global public health emergency that global health authorities should take seriously.
Haiti is the perfect embodiment of the voyeuristic trauma porn of mainstream media and social media. Since its independence in 1804, the first Black republic, is always depicted as a failed State plagued by man-made and natural disasters. And Cite Soleil, one of the most infamous inner cities of Port-au-Prince, struggles with chronic gang wars that always make the headlines.
According to the United Nations, between July 8 and July 17, 2022 in Cite Soleil, more than 471 people were killed, injured, or missing. Serious incidents of sexual violence against women and girls and boys recruited by gangs were also reported. As a result, approximately 3,000 people fled their homes, including hundreds of unaccompanied children, while at least 140 homes were destroyed or burned. Cite Soleil's inhabitants know something about the effect of trauma porn.
As a Haitian daughter and principal investigator of the Haitian Well-Being Study at the University of Miami Miller School of Medicine, I feel a moral duty to amplify the voices of Cite Soleil's children and folks that are risking their lives to improve the overall well-being of Cite Soleil's community. In doing so, I have decided to discuss this with the founder and executive director of Fondation Centre Hospitalier de Fontaine in Cite Soleil (Fontaine's Medical Center Foundation), Kareen Ulysse. She is a child of Cite Soleil and a long-time health equity advocate. In the following section, she shares her connection with the region and fieldwork experiences, while challenging the traditional addiction to Haitian trauma porn sold about Cite Soleil. In addition, she proposes critical elements that are undoubtedly useful to move toward an equitable educational system, a culturally responsive gang violence prevention program, and peace-building healing interventions.
Interview with Kareen Ulysse
Judite Blanc :     Can you please introduce yourself to the public? Where did you grow up? What was your childhood and Education like?
Gheriane Kareen Ulysse : My name is Gheriane Kareen Ulysse, known as Kareen Ulysse. I grew up and lived in Haiti until the 2004 Coup d'Etat. The first seven years of my life were spent in Fontaine, Cite Soleil, where I got a glimpse at the beginning stages of my father's hospital. I don't remember much about those days, but I certainly remember nightly walks with my mother to visit friends, my parents taking us for ice cream on Route-9 , and walking to the ocean from our house. I remember the area being poor but not violent. I must say I'm grateful to have had the opportunity to have positive core memories in Fontaine.
Although I was part of the few blessed to receive an education from respected schools, I struggled in the classroom after Kindergarten. I thrived in Kindergarten because it was a Montessori style of learning where I could independently learn and explore. All that changed in elementary school. I was suddenly expected to memorize chapters without being able to ask why and how. There were no visual aids or hands-on activities to drive the point home. I wanted to understand what I was learning, not just memorize. I needed to know how concepts were interconnected and given the time to process how they related to the world around me.
After horribly failing 5th grade, my mother recognized my cry for help and transferred me to a smaller school with smaller sized classes. These younger teachers understood how to keep us engaged, curious, and excited when learning. I fell in love with learning and the art of teaching at that school. I will always be grateful for Mr. Jacques and Mme. Balmir; their school "Ecole Internationale de Pétion-Ville  » saved me.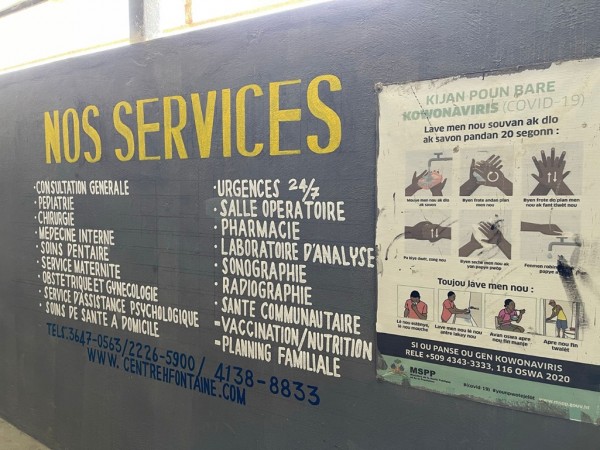 J.B.:     Tell us about your background. You have a master's degree in Education focusing on Middle Grades, Math, Science, and Education. Was this career path informed by your struggle in the colonial Haitian education system?
G.K.U.: Majoring in Middle Grades Education was an easy choice for me. Far too many students were subjected to corporal and verbal abuse simply because they could not learn through rote memorization.
Very early on, because I struggled in the classroom, I knew the dated Haitian education system affected low-income children worse than I did. At least, when I went home, I had the Science book my mother bought that broke concepts down for me. The classroom is the only and best place for low-income children to grasp academic concepts because there are no schools or public libraries. Their parents are likely illiterate or have received a very limited primary education. Obtaining my undergraduate degree in Education was my chance to remove trauma from the learning process for someone else.
The problem with Haiti's educational system is not just the dated materials but the type of education, training, and support teachers received. 
After two years of teaching, I returned to school to obtain my Masters's Degree in Middle Grades Math and Science. My Master's degree not only deepened my understanding of the concepts I taught but also helped me realize that the problem with Haiti's educational system is not just the dated materials but the type of education, training, and support teachers received.
Today, my foundation supports my father's 31-year-old hospital and a 28-year-old K-12 school in Cite Soleil. We are working with the school to develop a research-based, up-to-date S.T.E.A.M. curriculum and will provide regular staff training to improve their pedagogy. 
J.B.: How did your training and personal story constitute an asset to work in Cite Soleil?
G.K.U.: By the time I was born, my parents had already been living in Fontaine for about three years. That's how it all started for me. The first six and a half years of my life were there, where I had the opportunity to witness the beginning stages of my father's hospital.
Twenty years later, a traumatic family experience led me to become the hospital's biggest advocate. I had watched my father dedicate his life to the hospital from the sidelines for too long. It was time for me to stand by him to protect and scale what he worked so hard to build.
J.B.: Can you tell us about your work at Centre Hospitalier de Fontaine and its impact on Cite Soleil inhabitants' overall health? 
G.K.U.: Losing my grandmother because the hospital did not have oxygen was the wakeup call for me. I started the C.H.F. Foundation to rally support behind the hospital. Our mission is « To improve the quality of healthcare and education for low income, marginalized, underserved, underdeveloped Haitian communities globally through a strong network of partners. »
Our work has secured new partners for the hospital, such as U.N.I.C.E.F. and W.H.O., donating over $50,000.00 over the past two and a half years to the hospital.
J.B.:     Can you describe what a typical day of work at Centre Hospitalier de Fontaine is like for you?
G.K.U.: A typical day for me at the hospital is spent observing how the staff operates, surveying the staff and patients, and recording their responses and my observations. The following day I usually discuss my observations, suggestions, and propositions with my father, the administrative and the medical director.
I needed not to walk in with the « savior » mentality because I studied abroad.
When I started on this journey, I needed not to walk in with the « savior » mentality because I studied abroad. Early on, I recognized that to have survived that long in Cite Soleil, decades before I considered helping, the people working at the hospital from the very top to the very bottom knew what they were doing.
My job was to come in and work with them to improve current practices. My job was not to do a complete makeover under the pretense that my way was better than their way, my education more important than theirs. 
J.B.: Cite Soleil is a highly impoverished and densely populated commune located in the Port-au-Prince metropolitan area in Haiti. Armed gangs roamed the streets and terrorized the neighborhood. Murder, rape, kidnapping, looting, and shootings ravage the region. The site has been called a « microcosm of all the ills in Haitian society: endemic unemployment, illiteracy, non-existent public services, unsanitary conditions, widespread crime, and armed violence. You are part of the « leadership » at Centre Hospitalier de Fontaine, which is located in Cite Soleil, what do you say to this depiction? Is this an authentic picture of the situation in Cite Soleil or is it simply serving the voyeuristic « trauma porn » narrative?
G.K.U.: Unfortunately, I cannot say that the depiction is false. Everything we see on T.V. and hear on the radio is true. However, T.V. and Radio are only concerned with feeding our fears. If it's not trauma porn, it rarely makes the news. I've had Haitian news outlets tell me our work is too positive to share and watched them edit my interviews to change the narrative from something hopeful to almost hopeless.
If it's not trauma porn, it rarely makes the news.
That is why I took it upon myself to tell our own story. It's better to control the narrative when it's one of hope, collaboration, joy, and sheer determination to progress. I am neither a romantic nor an idealist. I choose to focus on the narrative our community needs the most. There are more than enough organizations, individuals willing to feed our addiction to trauma porn. I just choose not to be one of them. I see beauty and miracles every single day I'm at the hospital, my heart aches for those who only know of the negativity.
 J.B.:     What does the population of Cite Soleil think about the way the media portrays them? Do you think this is affecting them?
G.K.U.: On March 4th, my father and I had an interview at Metropole where we were not shy about how much we loved the community. We're grateful to them for protecting the hospital for 31 years, and promised not to give up on them because we got to see that they want change, they want better and are willing to be active participants in that change if they are given the opportunity to do so.
My father received so many calls and visits from our employees, former employees from Cite Soleil, and residents he had met over the past 35 years in Cite Soleil, to thank him for speaking of Cite Soleil positively. One specifically said « everyone thinks we're all criminals. Most of us were born here with nowhere to go but want to stay and see it change back ».
Because of the hospital many are less ashamed to say they are from Cite Soleil because something good is finally being shared with the public.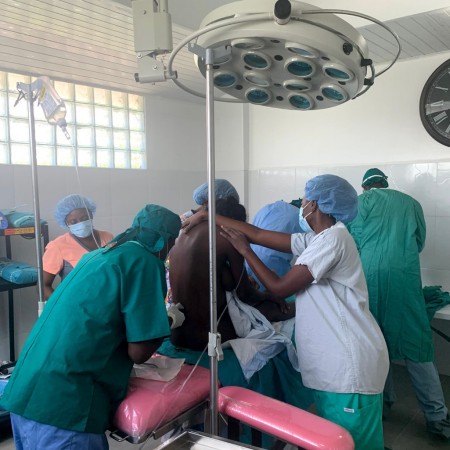 J.B.: Cite Soleil is currently making the headlines on mainstream media. According to the U.N., between July 8 and July 17 of 2022, more than 471 people were killed, injured, or missing. Serious incidents of sexual violence against women and girls and boys recruited by gangs were also reported. Approximately 3,000 people fled their homes, including hundreds of unaccompanied children, while at least 140 homes were destroyed or burned. Has this incident impacted the caseload of Centre Hospitalier de Fontaine team? Have you treated any victims of this latest gang war?
G.K.U.: Normally, any unrest near the hospital and surrounding areas negatively affects the caseload. Other than those directly affected by the violence or those in critical conditions unrelated to the violence, patients stay home.
The majority of the people we serve rely on public transportation such as tap-taps and mottos to seek treatment at C.H.F. With gangs targeting public vehicles, the majority of the people we serve choose to stay home until the situation changes for the better.
J.B.: Tell us how you, the team, and the nearby populations are coping?
G.K.U.: I am in Haiti six months out of the year. During those six months, coping mentally is a daily struggle. There is no judicial system. You don't know who to trust. If anything were to happen to you, even if everyone knew who orchestrated and funded the deal, there would be no justice. It's a struggle, a hurdle I've learned to live with because I know I am accomplishing God's mission for my life. I would have never thought that this is what I would be doing with my life, but I'm here now and am not going anywhere. So, I find ways to cope with the uncertainties when driving around Port-au-Prince, even if I am not going to the hospital.
It's stressful, to be honest, but if my staff can do it 100% of the year, who am I to chicken out six months out of the year? If I'm honest, their bravery and commitment to the hospital and the community help me the most.
J.B.: Do you feel a need for mental health services? Is this something that you offer at Centre Hospitalier de Fontaine?
G.K.U.: Absolutely! I feel there is a need for mental health services in Haiti for EVERYONE. In all social classes, you will find children (11+) to seniors who are either addicted to alcohol or cigarettes, struggling to sleep well, or a combination of them. There's nothing else to do; you're stuck home, scared to move around, so you stock up on beer and bottles during the week, praying you live to the weekend and drink the weekend, and afternoons after work/school as a way to cope.
WE ALL NEED HELP.
J.B.: What are the barriers and facilitators to your work at Centre Hospitalier de Fontaine?
G.K.U.: The barriers are sociopolitical, which affect the hospital. Our immoral leaders have created a laissez-faire system that resulted in the gang activity we are all witnessing today. When there are gang wars, other than gunshot victims and extreme emergencies, patients do not come. It takes about two, sometimes three weeks for traffic to pick back up. This puts a big strain on my father who still pays out of pocket for payroll. Payroll for the month of August is $6,000.00 US dollars as a result of the July 8-17 unrest. If we had moral leaders who could stand up to this abominable level of corruption and restore peace, more patients would be able to seek treatment, pay for their services, thus the hospital would be more sustainable.
The two biggest facilitators are:
The foundation's supporters who understand the impact of our work. Without this small but growing group of Haitians (in Haiti and abroad) and other funders, the foundation would not have had the means to support the hospital. It's been an absolute blessing to meet the Haitians who have not given up hope and are willing to be active participants in the solution.
I've heard many complain about the lack of support from the Haitian community with regard to philanthropic work. To you I say, do the work well and alone for as long as it takes, share your story shamelessly to everyone who will listen, stay consistent, stay positive and the right people will find you. This is year five for me, and about two months ago a Haitian lady in Canada reached out to tell me she had been watching me for two years and finally decided to trust me and take a leap of faith with the foundation and made a sizable donation in honor of her daughter. Stay the course, do the right thing when no one is watching, tell your own story; it will pay off.
Investing in the professional development of the community has been the second biggest facilitator. The hospital operates 24/7, 365 despite whatever you may see on the news. This has only been possible because we decided to develop and recruit local talent to work at the hospital. When the streets are too unsure and our staff transportation bus is out of commission, the staff members who live closest to the hospital come. For instance, 70% of our staff at the hospital are Cite Soleil residents. We've paid for some to attend school and come work at the hospital. We've built dormitories for the doctors and nurses who live near Martissant / Carrefour to reduce the likelihood of them being harmed on the way to and from work.
J.B.: Do you have a message for the Haitian community leaders, policymakers, global health leaders, and advocates regarding the current situation in Cité Soleil and how they can contribute to the fight to improve the overall health and well-being of its inhabitants?
G.K.U.: My message to the Haitian Policymakers and community leaders who have failed our ancestors, us, and our youth is, « The end is what people remember the most. If you're alive, you still have a chance to right your wrongs. Our children and grandchildren are watching us. Course correct, restore order for their sake. Seek out the individuals around you who have stood strong on their morals, support them, protect them, fund them ».
If you're alive, you still have a chance to right your wrongs.
To the community leaders especially at the international level I would say to also purposely and actively seek out the good stories, share them, restore the hope the diaspora needs. Do not subscribe to trauma porn, there's a whole new generation looking for their identity in countries that love to remind them they don't belong. Give them something positive to look at and listen to. Speak up, and speak against the injustices you know are happening. (Unlike those in Haiti, you have freedom of speech – you are less likely to die for speaking up).
To global health leaders, include the communities in decision-making. They may not know all the data you know, but it's their reality, their lives, their children's lives. Involve them, be transparent, respond on time. They may be poor and illiterate but to have lived and survived in those conditions for so long means they have access to a wealth of knowledge many of us will never possess. Ask them questions, guide them, help them help themselves as opposed to supporting their dependence on aid.
Thank you.
The photos are from Kareen Ulysse's team.
Commentaires