They've seen scorched bodies. Children missing. And the destruction of their families.
Since the beginning of hostilities on July 7, 2022, dozens of families fleeing the bloody confrontation between the G9 gangs led by Barbecue and Ti Gabriel's G-pèp in Cité Soleil, have been taking refuge in the Hugo Chavez public square in Tabarre, not far from the National Office of Civil Aviation (OFNAC).
The entrance of the Toussaint Louverture International Airport has also been transformed into a vast open-air shelter.
Several pregnant women can be seen on site. Some are sitting on the ground while others are lying on sheets under the hot sun.
These women have some chilling stories. Some of them were able to leave the city between two and four in the morning since there tends to be less shooting during those hours.
Chantal César, four months pregnant, still remembers July 18, 2022, when she fled Soleil 17 to join the displaced on Hugo Chavez square with her eight-year-old boy.
Today, César is struggling to find enough food to feed her son. "I was told that my husband was shot in the head, says the 35-year-old woman. I can't confirm if it's true, but I haven't seen him since I left."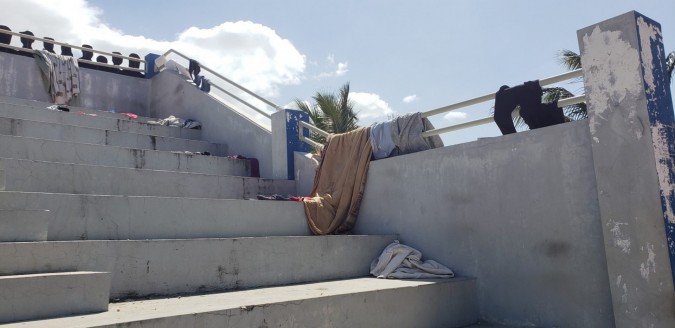 The City Hall of Tabarre and the civil protection services of the municipality refuses to take care of the victims on Hugo Chavez square. According to Emmanuel Pierre Saint, coordinator of the civil protection services of this township, it is up to the civil protection services and City Hall of Cité Soleil to take care of these displaced people. "They are residents of their township," he said.
The mayor of Cité Soleil did not return AyiboPost's calls for an interview on the topic. A few weeks earlier, he had told the press that he did not have the means to intervene effectively.
Without support from the public authorities, the victims must rely on the kindness of charities and passers-by. Sister Paësie Claire Joëlle Philippe, who runs the non-formal education centers in Cité Soleil, provides them with soup almost every morning, according to testimonies collected by AyiboPost from the displaced.
The list of victims grows longer every day on Hugo Chavez square. Uncertainty and sadness can be seen on their faces.
Anglène Médard, six months pregnant, says she has seen with her own eyes the inhumane actions of armed gangs. "I have lived the worst moments of my life in Cité Soleil," explains the 26-year-old mother of two.
Médard will not soon forget the neighbors speared by bullets and the many dead, wrapped in dirty sheets. Her older sister lost her husband in the conflict. "He was burned alive not far from the e-Power offices in Cité Soleil while he was trying to return home."
The news triggered a hypertensive crisis in the widow. "She was taken to the hospital thanks to Sister Paësie," adds Médard.
It is the uncertainty that torments Lilie Grossaint. Aged 40, the woman has no news of her three children. Her mother was shot in the head on July 8: she died instantly.
In her escape, Grossaint was wounded in her left foot. "I don't know if my children's lives were saved," she says, on the verge of tears.
Benjamin lost her husband. The biker was shot while trying to escape with a passenger. "He was my only source of support," says the woman who was able to flee with her 11-month-old daughter. "I thought my four-year-old son was dead, says the widow. It was only after a few days that a friend informed me that she was with him".
Before landing at the square, Benjamin spent a few days at a friend's house, but the reception was not warm. "I left her house to come to Hugo Chavez square," she says.
However, living conditions in Tabarre remain difficult. "Here, we have almost nothing to eat. We sleep badly on sheets that people have given us," she laments.
According to data from the National Human Rights Defense Network (RNDDH), gang violence in Cité Soleil has left nearly 300 people dead and several hundred injured. The United Nations estimates that approximately 500 people are dead, injured or missing.
English translation by Didenique Jocelyn and Sarah Jean.
Commentaires