This request, made in disregard of the constitutional right to protect journalistic sources, is categorically rejected
In June 2023, AyiboPost published a detailed investigation into the recent controversial elections at the Franco-Haitian Chamber of Commerce and Industry.
Read the investigation : Delphine Gardère accused of conducting a « coup d'État » at CFHCI
The article highlights the involvement, notably of the French Embassy in Haiti, as well as the unexpected shift of this chamber in favor of the December 21st agreement written by Prime Minister Ariel Henry's supporters after these elections.
Approximately one month after this publication, the lawyers of Rhum Barbancourt's owner threatened to take legal action against AyiboPost. They explicitly requested « the names, surnames, and complete addresses of individuals who can confirm the veracity of the allegations, » « all documents authorizing AyiboPost to make such statements, » and « proof of the allegations made in the said article. »
This request follows an email sent to AyiboPost on April 23rd by Delphine Gardère, in which she requested to « see the initial written draft, know who AyiboPost has interviewed, have the right to review the content, and have approval rights » over the article to be published.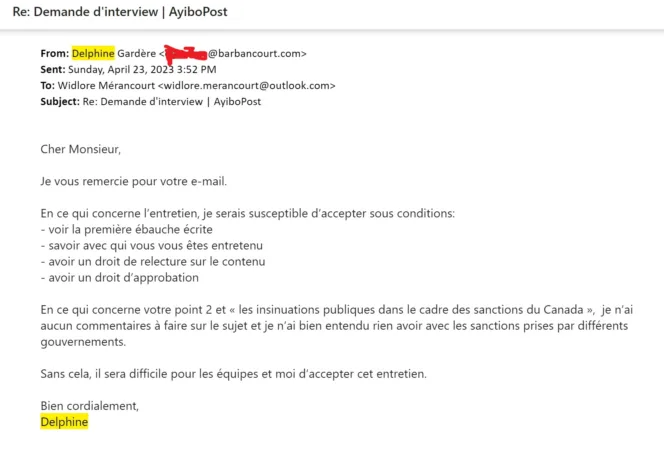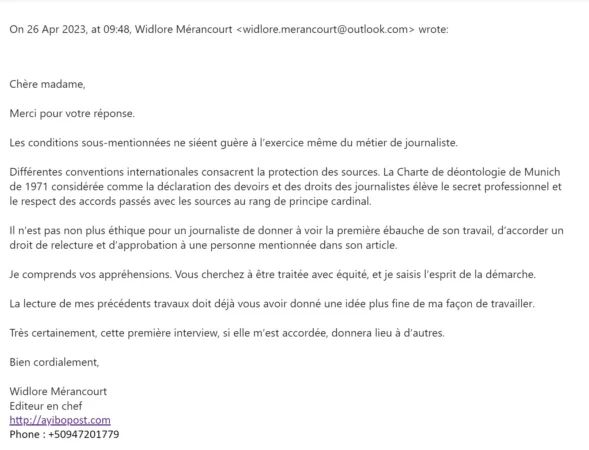 So, AyiboPost's refusal to disclose its sources is the basis for the legal action brought against it by Delphine Gardère of Rhum Barbancourt, more than three months after the release of the piece.
However, Delphine Gardère, through her lawyers, had already provided AyiboPost with documents corroborating the main facts of the article well before its publication, and no refutation of the investigation's information was presented by Gardère and her legal team, neither before nor after the publication.
AyiboPost reiterates that its work is primarily based on documents available within the Haitian justice system, a biding arbitral decision dealing with a dispute within the Gardère family, as well as other elements obtained and verified from various credible sources directly involved in the case.
AyiboPost remains ready to respond for its work before all courts in Haiti and elsewhere but will NEVER reveal its sources.
Attempting to compel a professional journalist to reveal their sources is a grave threat to press freedom, reminiscent of the darkest hours of attacks against independent journalists in Haiti, within a context marked by intolerance, intimidation, recurrent threats, and assassinations of press members in recent years.
Delphine Gardère's so-called defamation action will be fought by our legal team!
The Editorial Team
Cover Image: Delphine Gardere, leader of Barbancourt. | © Raoul Beltrame Photography/Medium
Image de couverture : Delphine Gardere, dirigeante de la société Barbancourt. | © Raoul Beltrame Photography/Medium
---
Gardez contact avec AyiboPost via :
 Notre canal Telegram : cliquez ici
 Notre communauté WhatsApp : cliquez ici
Commentaires