Luxury is what we want despite knowing we don't need it. Luxury is a 1,500 thread count Egyptian cotton pillow case, a pair of $5,000 handmade bespoke shoes from John Lobb, a $10,000 Kiton suit, a $500,000 Rolls Royce Phantom, or maybe Vertu's cell phone concierge service for $2,800 a year. There are dozens of more cost effective alternatives but that's for the masses, "c'est pour le peuple!", and who wants to be average?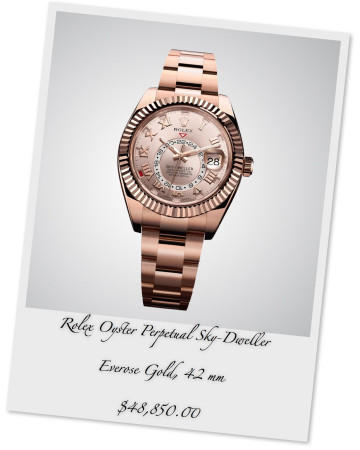 I remember sitting next to a gentleman on the train one day. I'm in my early 20s; he's in his mid-60s. I sat there admiring his gold Rolex (a rose gold Sky-Dweller) to the point where I practically drooled on my shirt. After minutes of admiration I convinced myself that this actual masterpiece was tacky, ugly, overpriced and that I would never buy it myself even if I had the money. I had to tell myself that because this man had two years worth of my gross yearly salary on his wrist! The watch did not define the man; it was just a piece of his story, a symbol of his hard work and his message to mofos like me that luxury is earned not just paid for and I agree!
I often joke with my brother that at the peak of my success I'm going to drop my last name, my SSN, every single tag or identifier that society has given me and, just go by JOJ. As silly as this may sound I will EARN my luxurious life and enjoy the fruits of my labor like those successful men I read and hear about. I want to make a name for myself, I want to be respected and build a reputation of greatness that will last long after I'm gone! I want to influence based on merit not just perception. So in order for me to be great I must learn from the greats.
Since I'm here to talk fashion let's talk about one of my favorites, Mr. Salvatore Ferragamo. This world-renowned shoemaker "started from the bottom now he's here". Ferragamo emigrated from Italy to Boston in 1914. He worked as a shoe repair clerk in a small shop with his brother before he began designing shoes for Hollywood celebrities. Despite his beautiful designs and great relationships with his clients, word got around that his shoes were uncomfortable as f**k! So the shoemaker decided to enroll in a university, not to study fashion or business but human anatomy. He already knew how to design but he didn't stop there, he put in the time, got the knowledge, paid his dues and earned the reputation his name now commands.
Up until a few years ago, Ferragamo's Gancini-buckle was a symbol of success for investment bankers, lawyers, doctors, business folks or anyone who earned the luxury of rocking that symbol and it made perfect sense. Because honestly, why would a college student living off of Pell Grants and Direct Loans spend $420 0n a belt? Great marketing, maybe? Nah… we simply don't have our priorities straight. Guilty as charged!
That's because those students, young folks just starting off in life want all the glamour without any of the patience or hard work it takes. Most people of my generation are growing up in a society where everyone claims to be a "bawss" or seriously believe they will be one next week. My generation feels entitled to everything and focus more energy on image than substance. What they don't realize is that most of what we are being sold as luxury is nothing but average goods produced to appease our need for instant gratification. Yes, your need for overnight success is met with an array of crap with big shiny logos. How else would you explain that brand new designers come out selling $100 t-shirts or that everyone and their mamas are walking around with $1,000 belts and $10,000 watches when the minimum wage in NY is $8.25/hour? Thank you, Canal St!
Our collective thirst for affordable luxury has been quenched. And as a generation we have become people with beer taste and beer budgets to match. The actual expression is "Champagne taste on a beer budget" but I say beer taste because I'm convinced that most of them even if they won the lottery tomorrow would buy 10 cases of beer to celebrate when the occasion calls for champagne. They don't know any better. For example most of them think that MK is one of the greatest watchmakers of all time, I beg to differ. Roger Dubuis, Breguet, Cartier, Chopard, Piaget, just to list a few are luxury watchmakers. MK puts his label on pieces manufactured by the Fossil Group. Manufacturers and distributors are encouraged to produce low quality goods and create elaborated marketing campaigns to glamorize the ordinary. En veux tu, en voilà!
Don't get me wrong, I have the utmost respect for the businessman, the entrepreneur and I am truly amazed by his understanding of the industry. Who expected a guy who started selling his designs from his mother's basement to end up selling them at stores like Bergdorf then becoming one of the most popular designers in the world in such a short time. A company that was valued at $100 million just ten years ago is now estimated at over $16 Billion! What do you think has given MK such a significant share of the market? Is it the price point? The quality? I believe it is mostly due to the fact that, as the marketing genius that he is, MK mastered the art copying or as some will argue, the art recreating the most iconic pieces ever created and made them affordable for regular folks like us. Imitation is the sincerest form of flattery, is it not?
Have you ever seen the Ballon Bleu or the Tank Anglaise from Cartier? The Rolex Datejust? The Voltaire by Louis Vuitton? The Classic quilted flap bag by Chanel? Or maybe the Mille Miglia by Chopard? Probably not but I'm 98.67% sure you've seen and know ALL of the MK versions of these classics.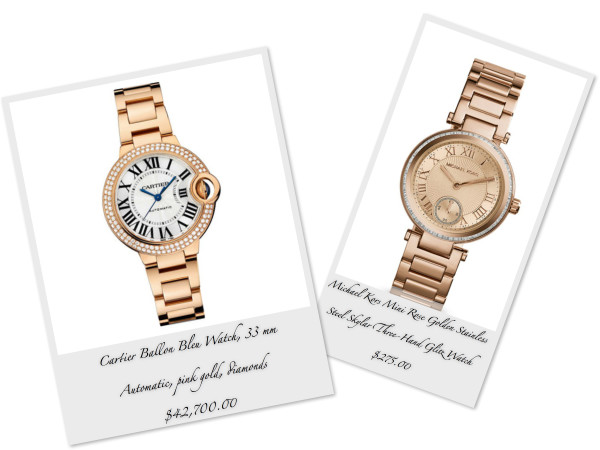 Cartier Tank Anglaise  vs MK Black Emery Glitz Watch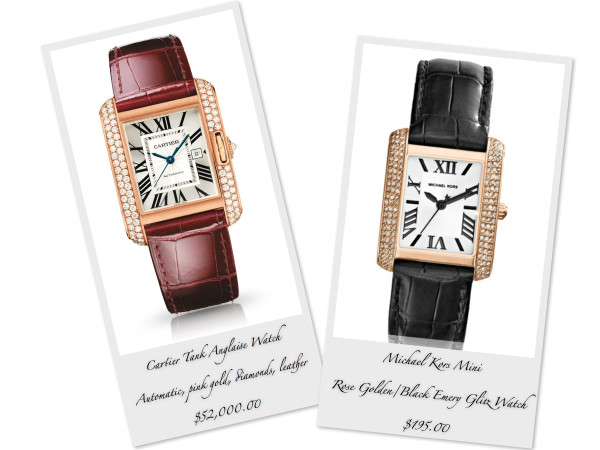 Rolex Dayjust Oyster  vs MK Lexington Three-Hand Watch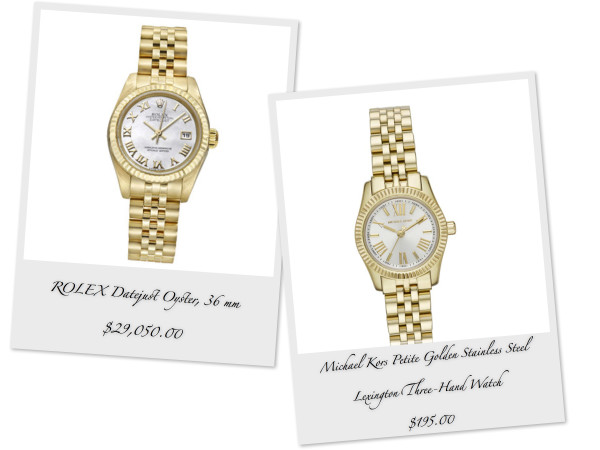 LV Monogram Canvas Voltaire  vs MK Monogrammed Jet Set Multifonction Logo Travel Tote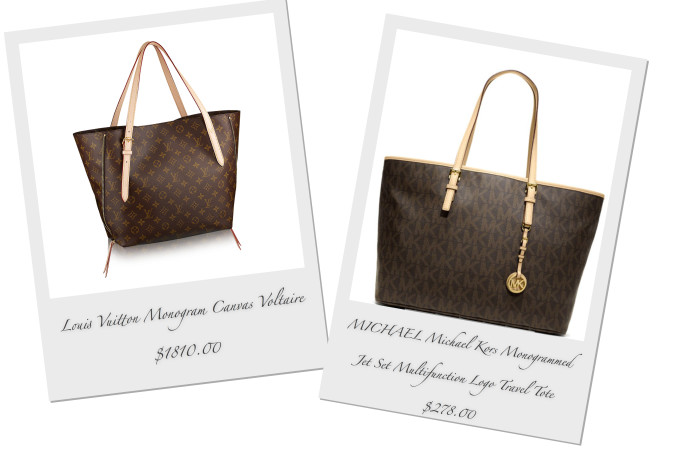 Chanel Classic Quilted Lambskin Flap Bag  vs MK Small Sloan Quilted Messenger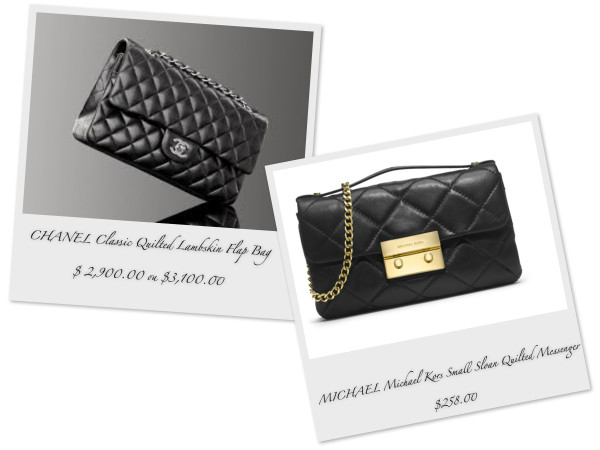 Chopard Mille Miglia  vs MK Michael Kors Tire-Tread Gage Chronograph Watch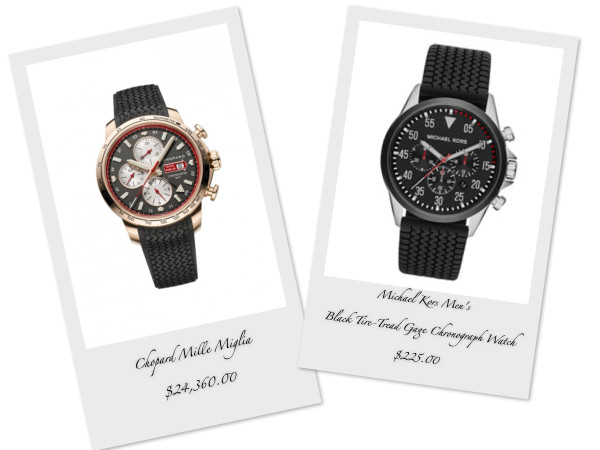 I could go on and on comparing items copied, oh, I forgot!, recreated by many designers, not just MK, but let's be honest I'd be wasting my precious time here. There are no strict design patents in fashion so, people can do as they wish. But that is not the point. The point is as consumers it's our duty to discriminate but no one cares enough to be picky, some because they just don't know, others because they don't want to be called vain or snob. If anyone tried to sell you a cheap diamond I'm sure you would question its authenticity! That's because you know luxury cannot be affordable. But I'm sure some would still buy it. That's because the plan is to fake it until we make it. But what you need to understand is that when you keep paying for mediocrity, there is no incentive for anyone to improve. If we don't reward creativity and originality how do we expect to get any innovation? We all need to be more selective with the choices we make if we ever want the market to deliver better quality. We all should learn the difference between polyester and cotton or wool, between an I3 and VVS1 diamond, between leather and vinyl or plastic or between 10kt and 18kt gold.
I am nowhere near rich, nor do I claim to only rock luxury shit but I am true to myself. I don't buy affordable luxury cause I know that doesn't exist. I do buy the best that my money can afford me and I keep my eye on that iconic piece as it walks off the train car. Until we meet again my friend…
Commentaires